All Bets
C'mon Down! The BITCOIN Price is Right
Description
C'mon down! You're the next contestant on the BITCOIN price is right! We are bidding on the price of bitcoin on Sunday 11/16/14. If you go to bitstamp.com and scroll down the page and find the chart, you can hover over each day to get a "day price." Examples: (9/27=401.79, 10/11=362.00, 10/30=346.14) We are guessing the price for Sunday, 11/16/14. You may place your bet until Friday Evening. Pick your price... Winner is whoever gets closest WITHOUT going over.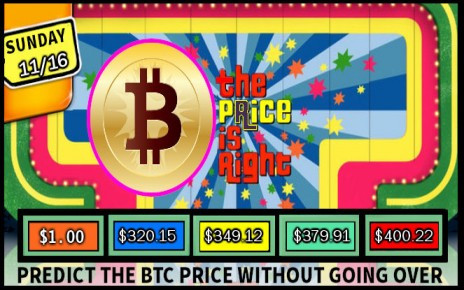 Decision Logic
Bitstamp.com Scroll to the chart where we can highlight over each day and we are looking for the answer that comes closest WITHOUT going over.
CLOSING IN
2014-11-15 07:00:00
12:46PM, Nov 10, 2014 UTC
7:00AM, Nov 15, 2014 UTC
2:00PM, Nov 17, 2014 UTC

RESOLVED AT 6:29PM, Nov 17, 2014 UTC
Total Volume:
0.0880
This bet has been resolved!
The outcome was "379.91"
0.088

was split between

1

bettors.

1.00
| | |
| --- | --- |
| Volume: | 0.0000 |
| # of Bets: | 0 |
320.15
| | |
| --- | --- |
| Volume: | 0.0000 |
| # of Bets: | 0 |
349.12
| | |
| --- | --- |
| Volume: | 0.0050 |
| # of Bets: | 1 |
379.91
| | |
| --- | --- |
| Volume: | 0.0200 |
| # of Bets: | 1 |
400.22
| | |
| --- | --- |
| Volume: | 0.0630 |
| # of Bets: | 5 |