All Bets
How Many Members Comment on Ubuntanda's 'Libtard' Bet?
Description
TeamColtra included the term 'libtard' in the tag words of their bet, 'Will Melaina Dump Trump?' Then, Ubuntanda posted a bet in the Entertainment category - 'Will @TeamColtra Remove the Word, "Libtard?"' Then, in the comments of Ubuntanda's bet, a member lampooned him for getting offended by the term.
Given the unusual nature and circumstances of the above-mentioned bet where we have TeamColtra with the option to bet and effect the outcome, and also the possibility of a heated debate about the freedom in BetMoose to tag a group of people with a derogatory name without consequences, there could be numerous members commenting in Ubuntanda's bet.
ATTENTION -- THIS BET HAS ENDED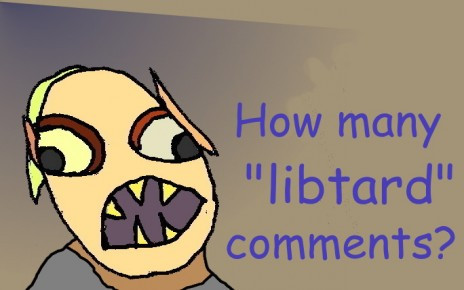 Decision Logic
At this time, Ubuntanda's 'Remove Libtard' bet has one comment which is to be counted in the total. How many BetMoose members will post comments on Ubuntanda's bet before it gets resolved? Two or more comments by any member count only as one comment. Comments posted after the Outcome Date of this bet will not be counted. If Ubuntanda's bet gets cancelled before the resolution date of this bet, then the number of valid comments posted up until said cancellation becomes the winning number for this bet.
7:27PM, Nov 26, 2020 UTC
7:00AM, Dec 8, 2020 UTC
7:00AM, Dec 17, 2020 UTC

CANCELLED
This bet has been cancelled!
Reason: One outcome can be easily swung.
1 to 6 comments
| | |
| --- | --- |
| Volume: | 0.0000 |
| # of Bets: | 0 |
7 to 11 comments
| | |
| --- | --- |
| Volume: | 0.0000 |
| # of Bets: | 0 |
12 to 16 comments
| | |
| --- | --- |
| Volume: | 0.0000 |
| # of Bets: | 0 |
17 or more comments
| | |
| --- | --- |
| Volume: | 0.0000 |
| # of Bets: | 0 |