All Bets
Description
Who will win the Nobel Peace Prize 2021. The winner will be a announced by the Norwegian Nobel Committee in Oslo on 8 October 2021. In 2020 the World Food Programme won this prestigious award.
.
Among the favorites are:
- The World Health Organization (WHO) for their role in fighting COVID-19;
- Greta Thunberg for her role as environmental activist;
- Alexei Navalny for his role as Russion opposition leader;
- Donald Trump for his role in Making America Great Again and his efforts in the Middle East;
- Others like Black Lives Matter, Jacinda Ardern, Angela Merkel or Joe Biden. In total 234 individuals and 95 organizations are nominated.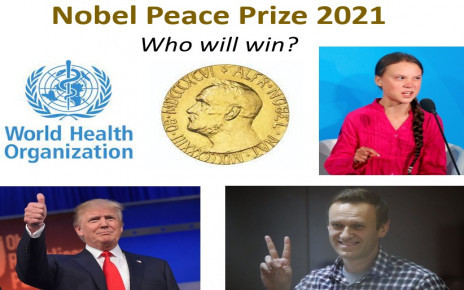 Decision Logic
The winner as announced by the Norwegian Nobel Committee.
https://www.nobelpeaceprize.org/
CLOSING IN
2021-09-30 22:00:00
11:41AM, May 24, 2021 UTC
10:00PM, Sep 30, 2021 UTC
10:00PM, Oct 8, 2021 UTC
2.250xCurrent Time-Weight Multiplier