All Bets
Rock Paper Scissors by number of bets
Description
Rock smashes Scissors
Paper covers Rock
Scissors cut Paper
Based on Sirlanka's bet, but number of bets is used instead of volume.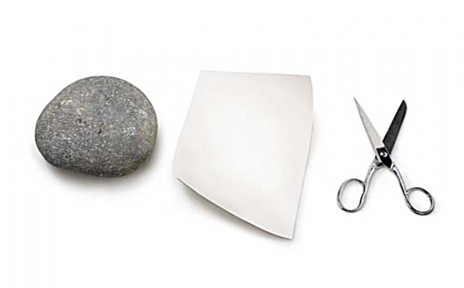 Decision Logic
Step 1: The two options with the largest number of bets will be compared to each other in step 2.
Note that volume DOES NOT matter here, just number of bets. (If there is a tie, the option with the most recent bet will lose.)
Step 2: The final two options will be compared with the following rules:
Rock beats Scissors
Paper beats Rock
Scissors beats Paper
CLOSING IN
2014-07-20 23:00:00
9:05PM, Jul 13, 2014 UTC
11:00PM, Jul 20, 2014 UTC
11:30PM, Jul 20, 2014 UTC

RESOLVED AT 11:30PM, Jul 20, 2014 UTC
Total Volume:
3.004
This bet has been resolved!
The outcome was "Scissors"
3.00408133

was split between

41

bettors.

Rock
| | |
| --- | --- |
| Volume: | 0.1231 |
| # of Bets: | 24 |
Paper
| | |
| --- | --- |
| Volume: | 0.1760 |
| # of Bets: | 35 |
Scissors
| | |
| --- | --- |
| Volume: | 2.705 |
| # of Bets: | 41 |