All Bets
Rock Paper Scissors Lizard Spock
Description
Let's play Rock Paper Scissors Lizard Spock. It's very simple:
Scissors cut Paper
Paper covers Rock
Rock crushes Lizard
Lizard poisons Spock
Spock smashes Scissors
Scissors decapitate Lizard
Lizard eats Paper
Paper disproves Spock
Spock vaporizes Rock
Rock crushes Scissors
Betting determines the outcome. Have fun!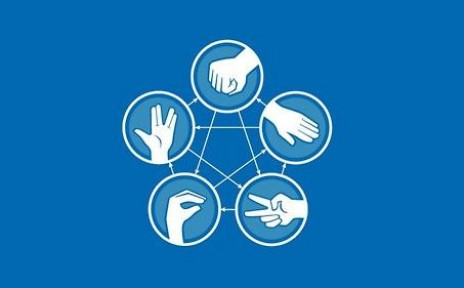 Decision Logic
Rock beats Lizard and Scissors
Paper beats Rock and Spock
Scissors beats Paper and Lizard
Lizard beats Spock and Paper
Spock beats Scissors and Rock
Out of the two options with the largest betting volume, the one that beats the other according to the rules above will win. If there is a tie in volume between three or more options, the option(s) with the most recent bets will be eliminated until there are two left.
CLOSING IN
2014-07-13 23:00:00
5:08AM, Jul 8, 2014 UTC
11:00PM, Jul 13, 2014 UTC
11:30PM, Jul 13, 2014 UTC

RESOLVED AT 11:32PM, Jul 13, 2014 UTC
Total Volume:
0.0270
This bet has been resolved!
The outcome was "Scissors"
0.027

was split between

1

bettors.

Rock
| | |
| --- | --- |
| Volume: | 0.0000 |
| # of Bets: | 0 |
Paper
| | |
| --- | --- |
| Volume: | 0.0060 |
| # of Bets: | 1 |
Scissors
| | |
| --- | --- |
| Volume: | 0.0100 |
| # of Bets: | 1 |
Lizard
| | |
| --- | --- |
| Volume: | 0.0060 |
| # of Bets: | 1 |
Spock
| | |
| --- | --- |
| Volume: | 0.0050 |
| # of Bets: | 1 |