All Bets
S&P 500 Index Price Range Options for Fri Aug 15, 2014
Description
What price range will the market price of the S&P500 Stock Index settle inside of on Friday Aug 15th 2014 at 8:00pm EST? Betting is weighted and deadline is 24 hours prior to outcome. Happy Bet Moosing!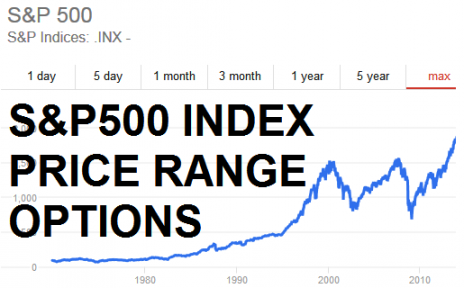 Decision Logic
The winner is the option containing the market value for the "S&P 500 Index" as quoted via http://www.bloomberg.com/markets/stocks/world-indexes/ at time of outcome
12:30AM, Aug 8, 2014 UTC
12:00AM, Aug 15, 2014 UTC
12:00AM, Aug 16, 2014 UTC

CANCELLED
This bet has been cancelled!
Reason: No one picked the winning option!
BELOW 1865.00
| | |
| --- | --- |
| Volume: | 0.0000 |
| # of Bets: | 0 |
1865.00 TO 1894.99
| | |
| --- | --- |
| Volume: | 0.0000 |
| # of Bets: | 0 |
1895.00 TO 1924.99
| | |
| --- | --- |
| Volume: | 0.0000 |
| # of Bets: | 0 |
1925.00 TO 1954.99
| | |
| --- | --- |
| Volume: | 0.0000 |
| # of Bets: | 0 |
1955.00 OR ABOVE
| | |
| --- | --- |
| Volume: | 0.0000 |
| # of Bets: | 0 |