All Bets
SF vs.LA How will the 6 head to head games go?
Description
The Giants (as of 9/7) are 2 GB of the LA Dodgers in the NL West an the best rivalry in baseball is shaping up to be a classic. In the next three weeks, the pair play head to head in 6 games. 3 Games on 9/12, 9/13 and 9/14 in San Francisco and 3 games 9/22, 9/23, and 9/24 in Los Angeles. Predict the outcome of the final 6 games. SF 5-1, 6-0 or LA 5-1, 6-0 or SF 4-2 or LA 4-2 or the 3-3 Split?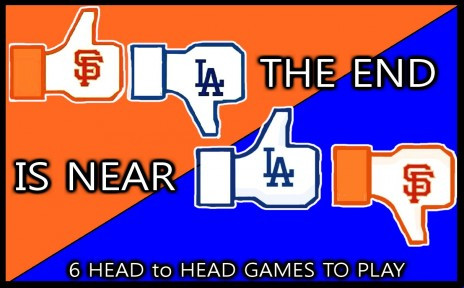 Decision Logic
MLB Stats for these 6 games. Rain-outs etc. count as major league scores the games.
3:01PM, Sep 7, 2014 UTC
10:00PM, Sep 12, 2014 UTC
5:00AM, Sep 25, 2014 UTC

CANCELLED
This bet has been cancelled!
Reason: Only one person bet on it. Next time, try sharing it with others!
SF Wins Series 5-1 or 6-0
| | |
| --- | --- |
| Volume: | 0.0000 |
| # of Bets: | 0 |
LA Wins Series 5-1 or 6-0
| | |
| --- | --- |
| Volume: | 0.0000 |
| # of Bets: | 0 |
SF Wins Series 4-2
| | |
| --- | --- |
| Volume: | 0.0000 |
| # of Bets: | 0 |
LA Wins Series 4-2
| | |
| --- | --- |
| Volume: | 0.0000 |
| # of Bets: | 0 |
Series in split 3-3
| | |
| --- | --- |
| Volume: | 0.0000 |
| # of Bets: | 0 |