All Bets
UEFA Euro 2020 - # host countries?
Description
How many countries will host games in the UEFA Euro 2020? From 11 June to 11 July 2021 Europe will be crazy about soccer again when 24 countries are trying to win UEFA Euro 2020.
.
This championship was planned to be hosted by 12 countries in June and July 2020. Because of COVID-19 the tournament had to be postponed by a year. Official statements say the tournament wil still be played in 12 countries in 2021, but because of multiple reasons this can be doubted. COVID-19 can force countries to withdraw as host, but other issues can be relevant as well. In a worst case scenario the tournament will be cancelled.
.
Supposed hosts: Azerbaijan, Denmark, England, Germany, Hungary, Italy, Ireland, Netherlands, Romania, Russia, Scotland, Spain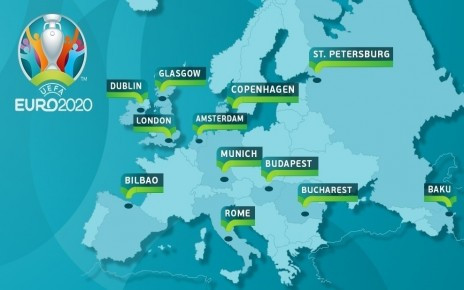 Decision Logic
The definition of countries is based on UEFA definitions, so England and Wales are different countries.
.
We'll wait until the end of Euro 2020 to see where the games were played. If the tournament will start but doesn't make it til the end, it's counted as played. Only if no single game is played the result will be a cancelled tournament. It's irrelevant if the tournament moves a few weeks.
.
Early resolution is only possible when the tournament is officially cancelled prior to the betting deadline.
CLOSING IN
2021-02-01 17:45:00
4:55PM, Nov 30, 2020 UTC
5:45PM, Feb 1, 2021 UTC
9:00PM, Jul 11, 2021 UTC
1.720xCurrent Time-Weight Multiplier