All Bets
Western Union vs Bitcoin: August 31, 2014
Description
Bitcoin is rapidly displacing Western Union (WU) as "the fastest way to send money worldwide". Which one will have a larger market capitalization in US dollars at the end of August 2014?
As of July 25, the market cap of WU is $9.44 billion, and the market cap of Bitcoin is approximately $7.71 billion based on Bitstamp prices.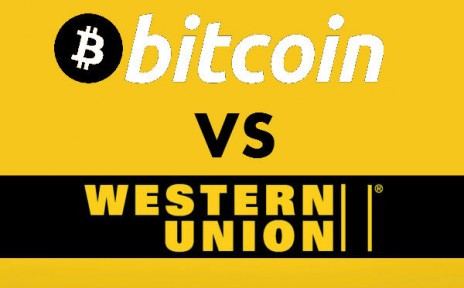 Decision Logic
Market cap of Western Union (WU) will be determined by http://www.nasdaq.com/symbol/wu
Market cap of Bitcoin will be calculated as the price in US dollars according to Bitstamp.net multiplied by the number of existing bitcoins at the time of the bet outcome.
The one with the larger market cap at the end of August 31 will win.
4:28AM, Jul 26, 2014 UTC
11:30PM, Aug 17, 2014 UTC
11:00PM, Aug 31, 2014 UTC

CANCELLED
This bet has been cancelled!
Reason: Only one option had bets placed on it. Next time, try sharing it with others!
Western Union
| | |
| --- | --- |
| Volume: | 0.0000 |
| # of Bets: | 0 |
Bitcoin
| | |
| --- | --- |
| Volume: | 0.0000 |
| # of Bets: | 0 |