All Bets
Where Will Amazon Build Their 2ND Headquarters?
Description
Where will Amazon's HQ2 be built?
There are currently 20 cities that are eligible for Amazon's HQ2. For the purposes of this bet these are grouped into 5 geographic areas -
West (Austin, Dallas, Denver, Los Angeles)
North (Boston, Newark, Pittsburgh, Toronto)
East (Washington D.C., Montgomery County, New York, Philadelphia)
South (Atlanta, Miami, Nashville, Raleigh)
Central (Chicago, Columbus, Indianapolis, Northern Virginia)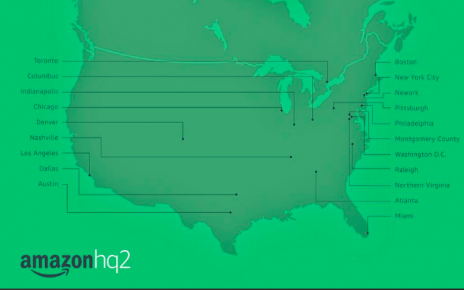 Decision Logic
City will be decided on based on announcement made on Amazon's website (amazon.com).
Bet is ruled null if
-city selected is not listed
-announcement is made before September 1 2018
-annoucement is made after December 31 2018.
5:50AM, Jul 23, 2018 UTC
4:00AM, Sep 1, 2018 UTC
5:00AM, Jan 1, 2019 UTC

CANCELLED
This bet has been cancelled!
Reason: More than one valid outcome.
West
| | |
| --- | --- |
| Volume: | 0.0000 |
| # of Bets: | 0 |
North
| | |
| --- | --- |
| Volume: | 0.0000 |
| # of Bets: | 0 |
East
| | |
| --- | --- |
| Volume: | 0.0000 |
| # of Bets: | 0 |
South
| | |
| --- | --- |
| Volume: | 0.0000 |
| # of Bets: | 0 |
Central
| | |
| --- | --- |
| Volume: | 0.0000 |
| # of Bets: | 0 |