All Bets
Which WWE Star Will Be The Next Heavyweight Champion?
Description
Between the five choices... who will next be the WWE Champion? If someone not listed as a choice wins the title, the bet continues... either till one year has passed or until one of the five wins the WWE Heavyweight Championship. Think you know who will be next, and their name isn't listed... get "Prophet Points" (worth nothing other than recognition) if you comment on this bet with who you think will be the next Champ.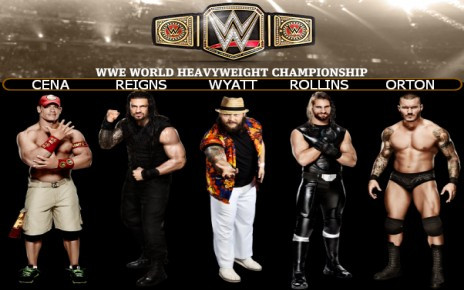 Decision Logic
Official WWE results. Winner needs to just hold the title, so if for example Orton wins and seconds later, Rollins cashes in his Money in the Bank Contract it will not matter as Orton has already won the bet. Must be official per WWE as a title change.
5:39AM, Sep 24, 2014 UTC
4:00AM, Mar 30, 2015 UTC
1:40AM, Mar 31, 2015 UTC
Early Outcome

CANCELLED
This bet has been cancelled!
Reason: Only one person bet on it. Next time, try sharing it with others!
JOHN CENA
| | |
| --- | --- |
| Volume: | 0.0000 |
| # of Bets: | 0 |
ROMAN REIGNS
| | |
| --- | --- |
| Volume: | 0.0000 |
| # of Bets: | 0 |
BRAY WYATT
| | |
| --- | --- |
| Volume: | 0.0000 |
| # of Bets: | 0 |
SETH ROLLINS
| | |
| --- | --- |
| Volume: | 0.0000 |
| # of Bets: | 0 |
RANDY ORTON
| | |
| --- | --- |
| Volume: | 0.0000 |
| # of Bets: | 0 |