All Bets
Who Scores More Points On Sunday 10/5/14 - NFL
Description
Who scores the highest point total in their game on Sunday, 10/5? Choose Eagles, Bengals, Saints, Broncos or Chargers. In case of a tie, the tie-breaker will be total yards of offense. OT counts. So, who you got?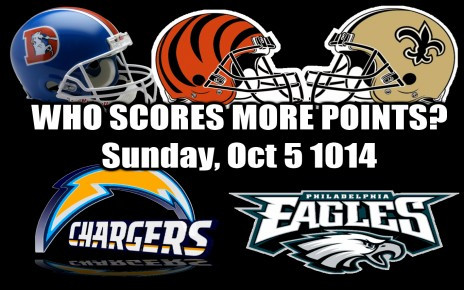 Decision Logic
8:47PM, Oct 4, 2014 UTC
5:00PM, Oct 5, 2014 UTC
6:55AM, Oct 6, 2014 UTC

CANCELLED
This bet has been cancelled!
Reason: Only one person bet on it. Next time, try sharing it with others!
Eagles
| | |
| --- | --- |
| Volume: | 0.0000 |
| # of Bets: | 0 |
Chargers
| | |
| --- | --- |
| Volume: | 0.0000 |
| # of Bets: | 0 |
Broncos
| | |
| --- | --- |
| Volume: | 0.0000 |
| # of Bets: | 0 |
Saints
| | |
| --- | --- |
| Volume: | 0.0000 |
| # of Bets: | 0 |
Bengals
| | |
| --- | --- |
| Volume: | 0.0000 |
| # of Bets: | 0 |