All Bets
Who will be Secretary of State?
Description
Who will Donald Trump choose to be Secretary of State?
Mitt Romney
Rudy Giuliani
Nikki Haley
John Bolton
or some other choice?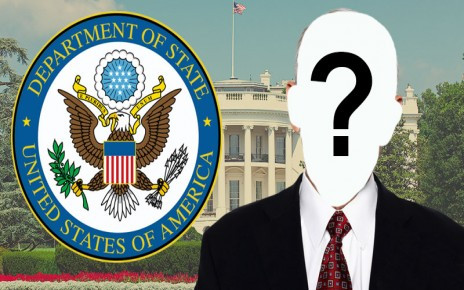 Decision Logic
Which of the five people will Trump choose as SOS? "Other" can be any person not listed amongst the four other options. Early resolution is possible as soon as confirmation is proven. Confirmation comes from reputable news source: NYT/NBC/CNN. Betting deadline is December 15th, 2016. Late bettors will be refunded.
CLOSING IN
2016-12-12 12:30:00
3:32AM, Nov 21, 2016 UTC
12:30PM, Dec 12, 2016 UTC
5:32PM, Dec 13, 2016 UTC
Early Outcome

RESOLVED AT 10:05PM, Dec 13, 2016 UTC
Total Volume:
0.5171
This bet has been resolved!
The outcome was "Other"
0.51706425

was split between

11

bettors.

Mitt Romney
| | |
| --- | --- |
| Volume: | 0.0552 |
| # of Bets: | 9 |
Rudy Giuliani
| | |
| --- | --- |
| Volume: | 0.0220 |
| # of Bets: | 2 |
Nikki Haley
| | |
| --- | --- |
| Volume: | 0.0000 |
| # of Bets: | 0 |
John Bolton
| | |
| --- | --- |
| Volume: | 0.0100 |
| # of Bets: | 2 |
Other
| | |
| --- | --- |
| Volume: | 0.4299 |
| # of Bets: | 11 |