All Bets
Who Will Win Super Bowl 55 on 2/7/21?
Description
Who will win the NFL Super Bowl 55 to be played on February 7, 2021 in Tampa Bay, Florida? Choose from one of the 5 options. KC, Pitt, TB, SEA or the field! Bet early for best odds!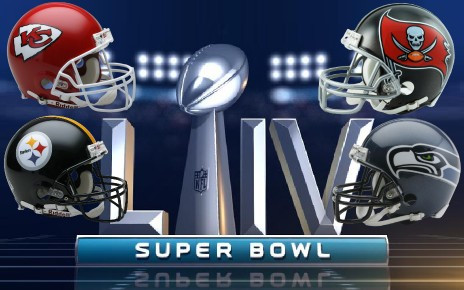 Decision Logic
Winner will be obvious according to NFL.com, ESPN etc. and bet will resolve on February 8. If date of game is moved, bet still stands. Bet will be null if game is canceled. To protect leeching, bets must be in prior to playoffs starting on January 9. Bet early for best weighted odds!
11:49PM, Nov 4, 2020 UTC
7:55AM, Jan 9, 2021 UTC
8:00PM, Feb 8, 2021 UTC

CANCELLED
This bet has been cancelled!
Reason: No one picked the winning option!
Kansas City Chiefs
| | |
| --- | --- |
| Volume: | 0.0000 |
| # of Bets: | 0 |
Pittsburg Steelers
| | |
| --- | --- |
| Volume: | 0.0000 |
| # of Bets: | 0 |
Tampa Bay Buccaneers
| | |
| --- | --- |
| Volume: | 0.0000 |
| # of Bets: | 0 |
Seattle Seahawks
| | |
| --- | --- |
| Volume: | 0.0000 |
| # of Bets: | 0 |
Any Other Team (the field)
| | |
| --- | --- |
| Volume: | 0.0000 |
| # of Bets: | 0 |