All Bets
Will Italy or Portugal go to Qatar 2022?
Description
Four teams, only one will go to The Qatar 2022 World Cup .
Who makes it? One of the favorites, Italy or Portugal?
OR will there be a surprise win from Turkey or North Macedonia?
March 24 Semi #1: Italy vs. North Macedonia
March 24 Semi #2: Portugal vs. Turkey
March 29 winner from semi1 vs winner from semi2
Italy: no. 6 ranked. Failed to qualify twice 1958 & 2018. UEFA2020 winners

Portugal: no. 8 ranked . In 5 official competitions vs Turkey have always come out on top. Hasn't missed the World Cup since 1998. UEFA2016 winners.

Turkey: No. 37-ranked. Has made it to 2 World Cups (1954 and 2002).

North Macedonia: No. 67 ranked .
First major INTL tournament was Euro 2021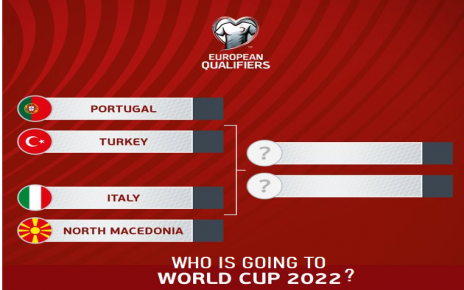 Decision Logic
The winner of Path C is going to Qatar 2022.
12:22AM, Dec 7, 2021 UTC
3:55AM, Mar 24, 2022 UTC
3:55AM, Mar 31, 2022 UTC

CANCELLED
This bet has been cancelled!
Reason: Only one option had bets placed on it. Next time, try sharing it with others!
ITALY
| | |
| --- | --- |
| Volume: | 0.0000 |
| # of Bets: | 0 |
PORTUGAL
| | |
| --- | --- |
| Volume: | 0.0000 |
| # of Bets: | 0 |
TURKEY
| | |
| --- | --- |
| Volume: | 0.0000 |
| # of Bets: | 0 |
N. MACEDONIA
| | |
| --- | --- |
| Volume: | 0.0000 |
| # of Bets: | 0 |