All Bets
Will @TeamColtra Remove the Word, "Libtard"?
Description
@TeamColtra has included the term, "Libtard" -- a derogatory term for a liberal -- in the tag words of the team's "Will Melania Dump Trump?" bet. Will the team remove the term from their bet by the time of this bet's end?
WARNING TO POTENTIAL BETTERS: This bet has be set up to give TeamColtra the opportunity to bet and also control the outcome of the bet in order to see if they have what it takes to benefit from posting derogatory names.
ATTENTION EVERYONE: Thanks for participating with your bets and comments. TeamColtra removed the above-mentioned term from their bet last night, so this bet resolves early as a YES. I don't see a button anywhere to set an early resolution, so I'm flagging for the moderators to resolve this.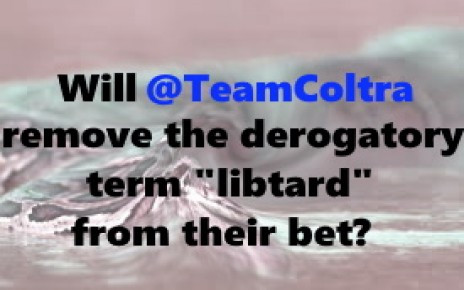 Decision Logic
A bet of NO wins if the term is not removed. A bet of YES wins if the term is removed.
8:02AM, Nov 26, 2020 UTC
8:00AM, Dec 7, 2020 UTC
8:00AM, Dec 17, 2020 UTC

CANCELLED
This bet has been cancelled!
Reason: One outcome can be absolute.
YES
| | |
| --- | --- |
| Volume: | 0.0000 |
| # of Bets: | 0 |
NO
| | |
| --- | --- |
| Volume: | 0.0000 |
| # of Bets: | 0 |