All Bets
Will The San Francisco 49ers Finish Out Undeafeated
Description
The 49ers are the NFL's last undefeated team. Will the San Francisco 49ers finish out the NFL Regular Season Undefeated, Post 1 regular season loss, or lose more than 1 regular season game. (Playoffs Not Included).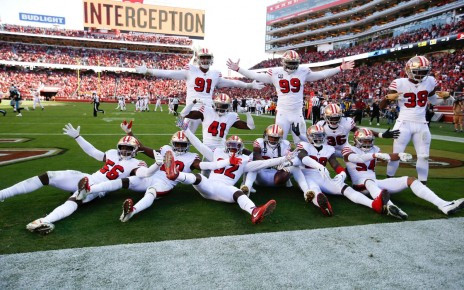 Decision Logic
The decision will be made based off of the number of regular season losses following the San Francisco 49ers last game on December 29th. Ties do not count as losses in this scenario.
8:31PM, Nov 10, 2019 UTC
5:55AM, Dec 15, 2019 UTC
5:55AM, Dec 30, 2019 UTC

CANCELLED
This bet has been cancelled!
Reason: No one bet on it. Next time, try sharing it with others!
49ers Go Undefeated
| | |
| --- | --- |
| Volume: | 0.0000 |
| # of Bets: | 0 |
49ers-1 Regular Season Loss
| | |
| --- | --- |
| Volume: | 0.0000 |
| # of Bets: | 0 |
49ers Loss More Than 1 Game
| | |
| --- | --- |
| Volume: | 0.0000 |
| # of Bets: | 0 |