All Bets
Will the Supreme Court Dobbs Opinion Leaker be caught?
Description
On May 2, 2022, someone leaked a draft opinion in the US Supreme Court case Dobbs v. Jackson Women's Health. This was the first time in history that someone had violated the confidentiality of the Supreme Court's decision-making process, and has resulted in widespread protests, vandalism, arson attacks against pro-birth counseling services' offices, and even an assassination attempt against Justice Kavanaugh.
.
The Court is now searching to try to figure out who violated their ethics obligations and nondisclosure agreements. Was it a clerk? Was it one of the justices? Will they ever figure out who did it?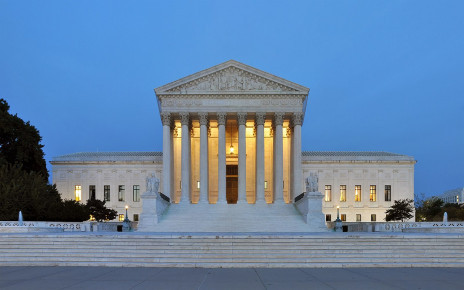 Decision Logic
JUSTICE-LEFT - Sotomayor, Kagan, Breyer, or Brown-Jackson
JUSTICE-RIGHT - Roberts, Alito, Thomas, Gorsuch, Kavanaugh, or Barrett
CLERK-LEFT - one of the clerks or other employees for any of the three Democrat justices or Jackson-Brown
CLERK-RIGHT - one of the clerks or other employees for any of the six Republican justices
NO OR NONE OF THE ABOVE - anyone who is not an employee of a specific justice (e.g., janitorial staff), or not found.
.
Note: Ketanji Brown Jackson is included because it is possible she had access after her nomination and confirmation.
.
Early resolution is possible at any time if the leaker is found.
CLOSING IN
2023-06-15 05:00:00
9:41PM, Jun 16, 2022 UTC
5:00AM, Jun 15, 2023 UTC
5:00AM, Jun 17, 2023 UTC

RESOLVED AT 12:19AM, Jun 22, 2023 UTC
Total Volume:
0.0207
This bet has been resolved!
The outcome was "NO OR NONE OF THE ABOVE"
0.0206855

was split between

8

bettors.

JUSTICE-LEFT
| | |
| --- | --- |
| Volume: | 0.0006 |
| # of Bets: | 2 |
JUSTICE-RIGHT
| | |
| --- | --- |
| Volume: | 0.0001 |
| # of Bets: | 1 |
CLERK-LEFT
| | |
| --- | --- |
| Volume: | 0.0015 |
| # of Bets: | 2 |
CLERK-RIGHT
| | |
| --- | --- |
| Volume: | 0.0001 |
| # of Bets: | 1 |
NO OR NONE OF THE ABOVE
| | |
| --- | --- |
| Volume: | 0.0184 |
| # of Bets: | 8 |