28/05/2020 - There was an issue with our email service that has now been resolved and all of the backlogged emails have been sent out. Apologies for the trouble!
All Bets
How much will The Times 03 Jan 2009 sell for?
Description
JDBound is selling The Times from 03 Jan 2009 in an auction thread, starting price 0 BTC with 0.25 BTC increments.
This newspaper is the oldest cryptocurrency collectible, 'emblazoned w/ the infamous headline "Chancellor on brink of second bailout for banks".' In 2009, The Times had a print circulation of over half a million, however it seems that very few of these highly desirable newspapers survived.
The outcome date has been postponed for two days, in case any sniping is done in the sales thread (https://bitcointalk.org/index.php?topic=5134423.0).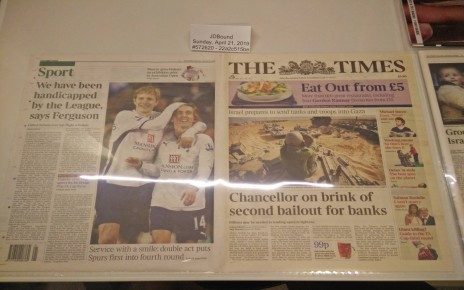 Decision Logic
The judgment criteria is the winning bid in this topic https://bitcointalk.org/index.php?topic=5134423.0 and whoever picked the closest option.
So if the auction was finished at 2.5BTC, option "Over 2BTC" would win.
7:03AM, May 7, 2019 UTC
10:00PM, May 20, 2019 UTC
6:00PM, May 23, 2019 UTC

CANCELLED
This bet has been cancelled!
Reason: No one bet on it. Next time, try sharing it with others!
Over 2BTC
| | |
| --- | --- |
| Volume: | 0.0000 |
| # of Bets: | 0 |
Over 3BTC
| | |
| --- | --- |
| Volume: | 0.0000 |
| # of Bets: | 0 |
Over 4BTC
| | |
| --- | --- |
| Volume: | 0.0000 |
| # of Bets: | 0 |
Over 5BTC
| | |
| --- | --- |
| Volume: | 0.0000 |
| # of Bets: | 0 |
Over 6BTC
| | |
| --- | --- |
| Volume: | 0.0000 |
| # of Bets: | 0 |