All Bets
What will happen to Sony's film "THE INTERVIEW"?
Description
After Sony pulled the 12/25 release of the movie THE INTERVIEW, Americans have been calling for the release of the movie online via Crackle or other free way. This bet ends 2/1/15 and has only 3 options. Will it be released free, or online in some way, even if requiring donation or small price before 2/1/15? Will it be released in theaters prior to 2/1/15? Or come 2/1/15 will the movie remain unreleased?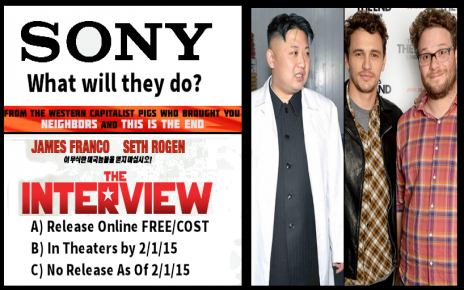 Decision Logic
It will have to come from a major news source showing one of the above options TAKING PLACE prior to 2/1/15. If that day arrives and the movie has not been released online or in theaters yet, the last option will win.
3:15PM, Dec 19, 2014 UTC
7:55AM, Jan 16, 2015 UTC
6:00AM, Feb 2, 2015 UTC

CANCELLED
This bet has been cancelled!
Reason: More than 1 option has come out to be true.
Released Online before 2/1
| | |
| --- | --- |
| Volume: | 0.0000 |
| # of Bets: | 0 |
Release In Theaters before 2/1
| | |
| --- | --- |
| Volume: | 0.0000 |
| # of Bets: | 0 |
Still Unreleased on 2/1
| | |
| --- | --- |
| Volume: | 0.0000 |
| # of Bets: | 0 |