All Bets
Bolsonaro still President of Brazil at end of 2021?
Description
Jair Bolsonaro aka "Trump of the tropics" is losing support.

He is up for reelection October 2022, can his presidency last till then?

Brazil's Covid-19 response is the worst in the world, says Médecins Sans Frontières.

In one week he fired his foreign minister & the top commanders of the army, navy & air force jointly resigned. This came shortly after losing his defense minister & his health minister.
The speaker of the lower house, once an ally, hinted at the possibility of impeachment.
Most recently Brazil's Supreme Court has greenlight a probe into his COVID-19 response .
March 2021 the criminal convictions of the fmr. President Lula da Silva. Opening up the possibility of Lula running for office again.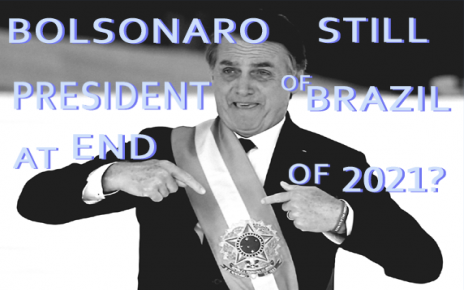 Decision Logic
YES : BOLSONARO IS STILL PRESIDENT OF BRAZIL END OF 2021
NO : BRAZIL HAS A NEW PRESIDENT
CLOSING IN
2021-10-01 03:55:00
12:26AM, Apr 17, 2021 UTC
3:55AM, Oct 1, 2021 UTC
4:45AM, Jan 2, 2022 UTC
2.280xCurrent Time-Weight Multiplier