All Bets
Description
Does Melania even love Trump? There are plenty of photos of her rejecting his hand holding, he almost certainly had affairs, and now the rumors are her aids are just counting down the days until Trump leaves the White House so she can file for divorce.
Do you think they will file for divorce within 6 months of the January inauguration? (Think Trump will be there? I have a bet for that https://www.betmoose.com/bet/will-donald-trump-be-present-for-an-inauguration-01-20-5217)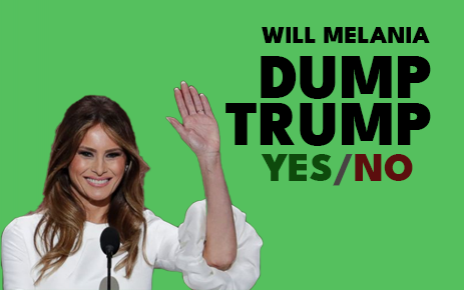 Decision Logic
---- YES WINS IF ----
If either party (Donald Trump or Melania) Trump files for divorce by July 20th, YES wins.
---- NO WINS IF ----
No wins in all cases where YES doesn't.
---- NOTE ----
I will close the bet and resolve if the divorce is announced early (if it happens).
CLOSING IN
2021-07-13 07:00:00
4:40AM, Nov 19, 2020 UTC
7:00AM, Jul 13, 2021 UTC
6:55AM, Jul 21, 2021 UTC
3.965xCurrent Time-Weight Multiplier